Wedding Day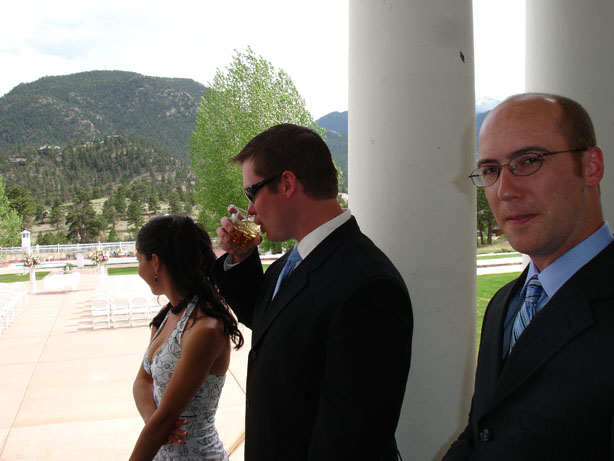 Hello, I'm Justin Dyer. And this is Dan Poehler.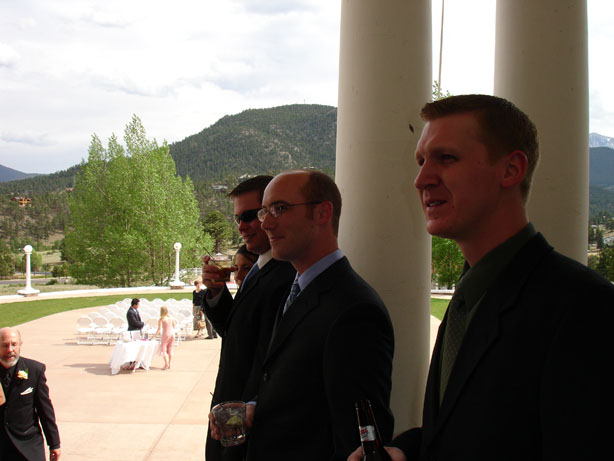 Warming up again on the porch. Wedding preparations and the view visible in the background.
The boyz (minus Viper who is slithering up and down the isle ushering people). Here a candid shot as we compose ourselves for the picture.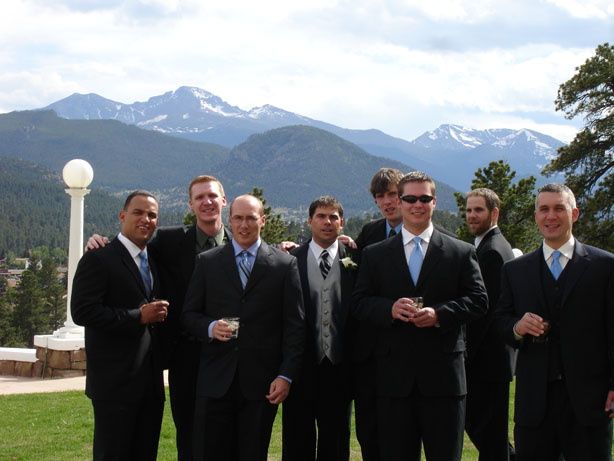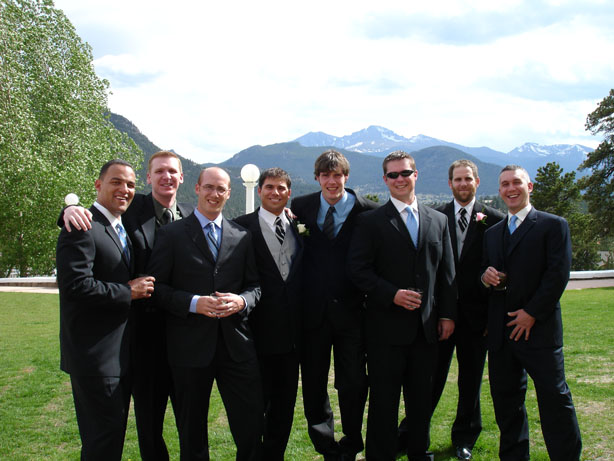 Jake can't find the pocket quick enough for a flex. But a great pic.
FLASHBACK: Slightly less than three years ago in this very mountain range I snap a picture of Stevi and Baron who are wearing their "hiking gear". On my trip blog it was titled "Rocky Mountain Fashion Show".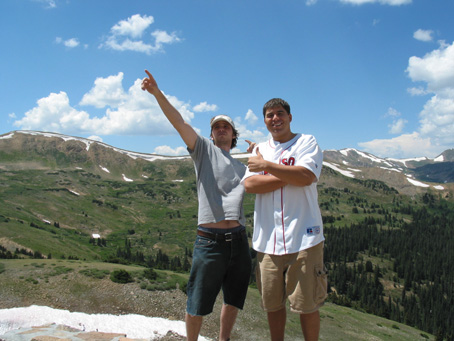 Wedding pictures...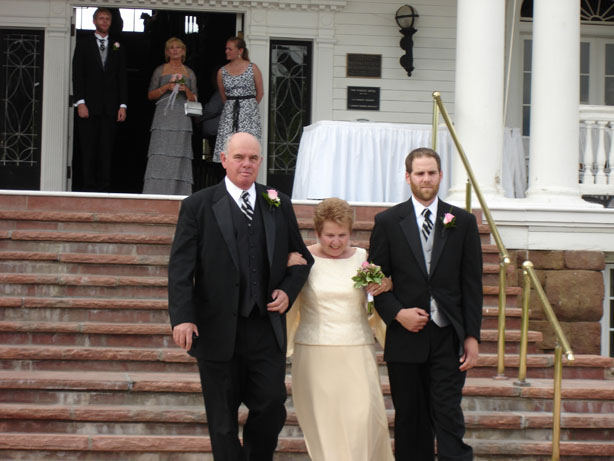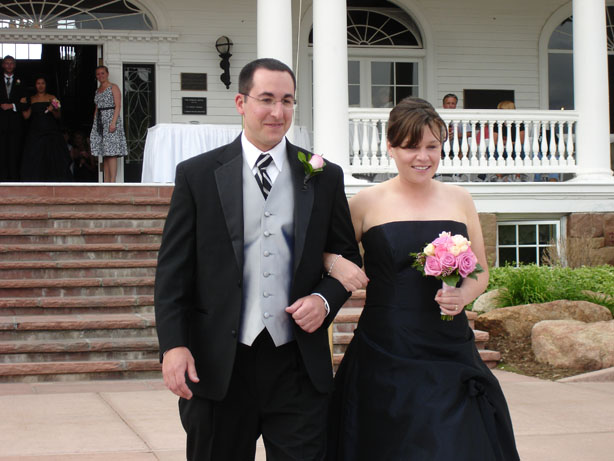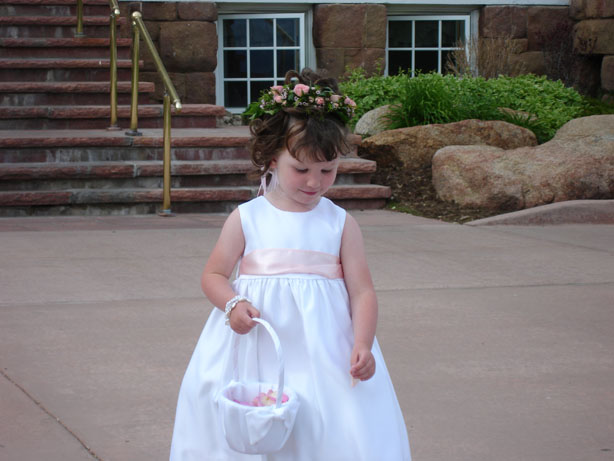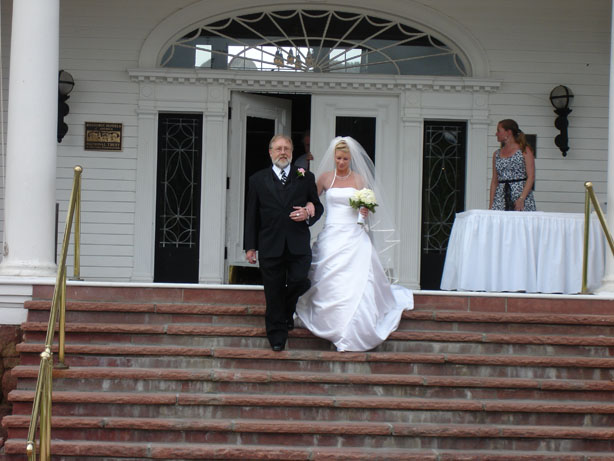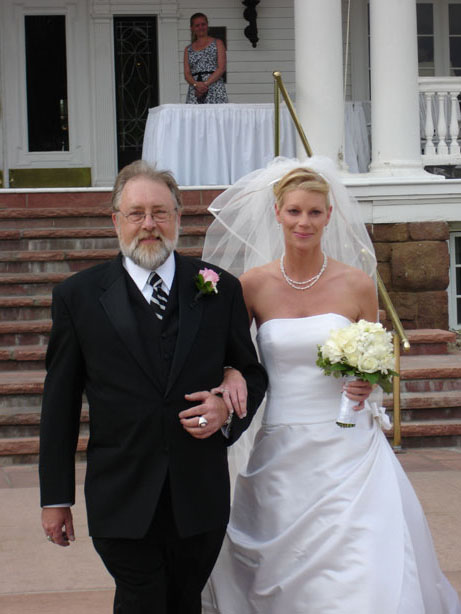 Since our crew was seated in the back row sometimes the pictures gave me a better idea of what was going on. Jim trying to contain himself over something and Bree encouraging him to contain himself...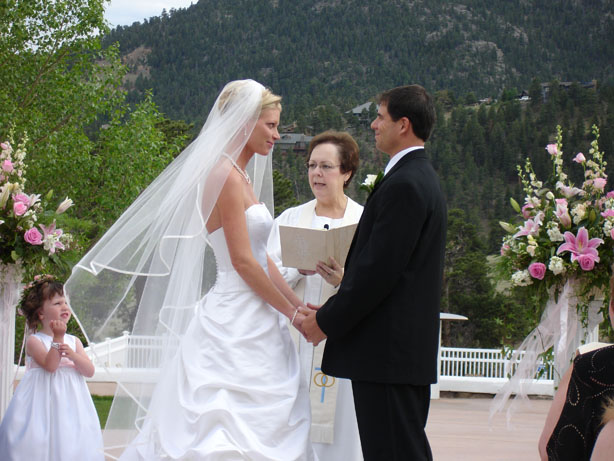 Us in the back row. Jake seems impressed by something?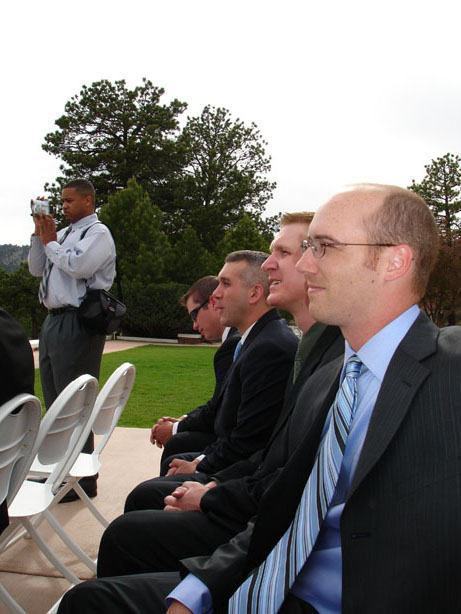 It's the speech by Bree's cousin.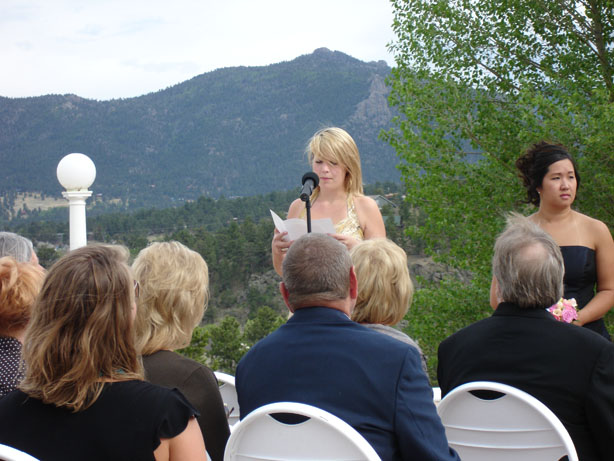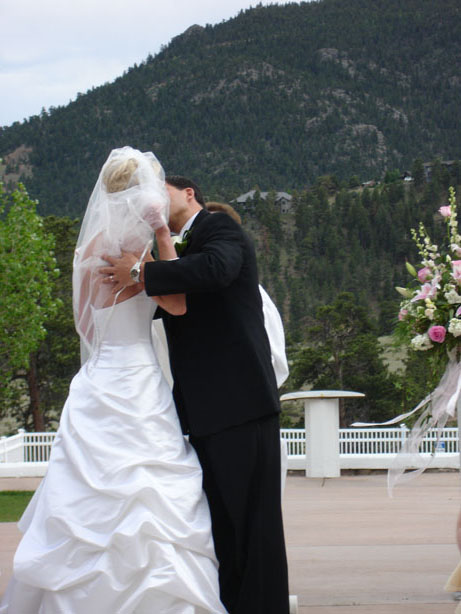 Mr. and Mrs.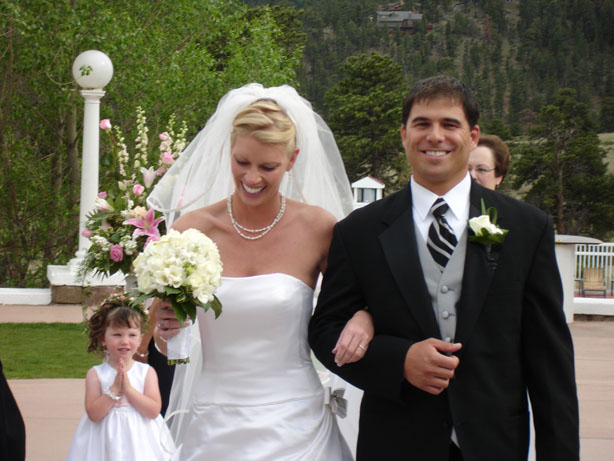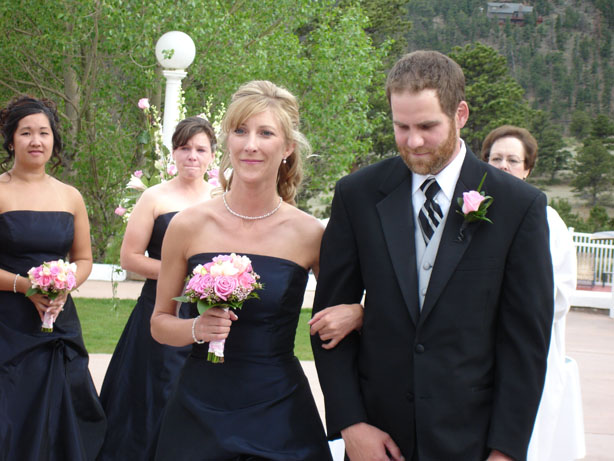 Pat and Bree's sister.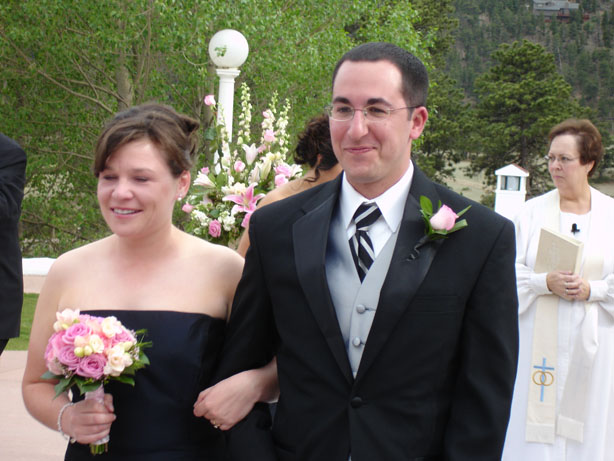 Viper slithers back with Jim's sister.
The Reception
There was a lot going on at the reception and things happened fast and there wasn't a lot of picture taking. Further complicating the situation my camera sucks at taking indoor pictures. Some indoor pictures were salvaged by brightening the hell out of them. Here is a before/after example:
Before... just some vague outlines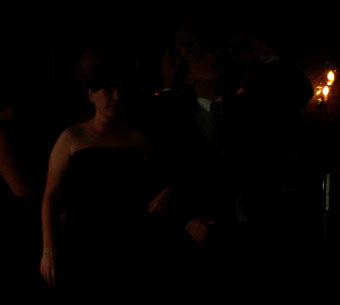 After... we see Viper feeding while simultaneously escorting Baron's sister in to the reception. This picture was only lightened and not modified in any other way.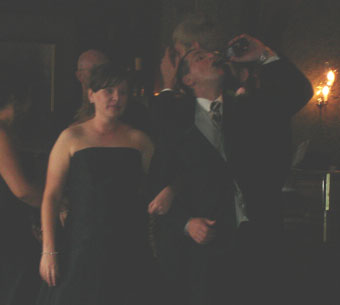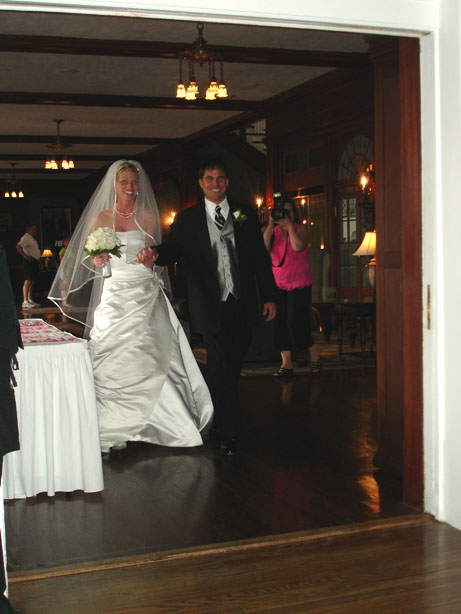 The best real picture (and a good one) captured in the reception: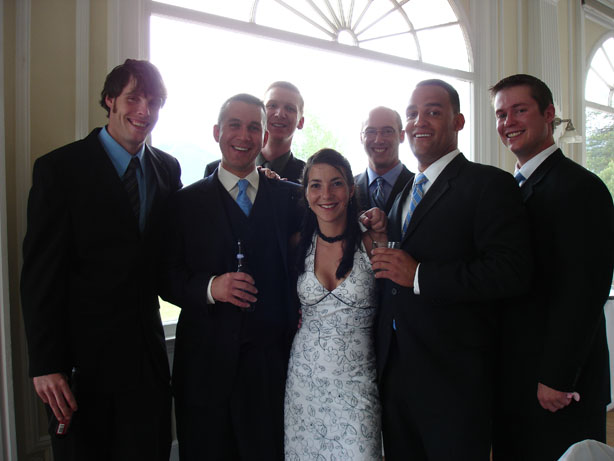 Jim and Bree have their dance.
Fortunately, the following camera phone pictures turn out to be very handy since most of my pictures are too dark.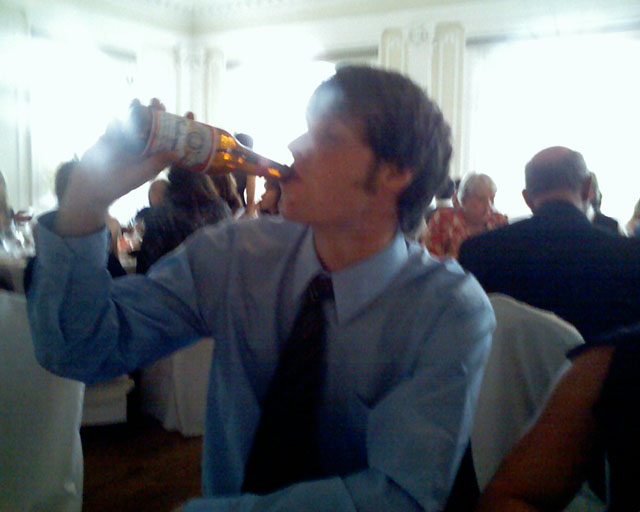 Again, things happened quickly and there isn't much left for record of the night. This was mostly due to the open bar. Not only was it an open bar, it was a very pleasant place to hang out which made it very, very dangerous to some people (and they apologize). This camera phone picture of Cogz is the only record I have of the bar area (which is behind him). As you can see it's a nice place for an open bar.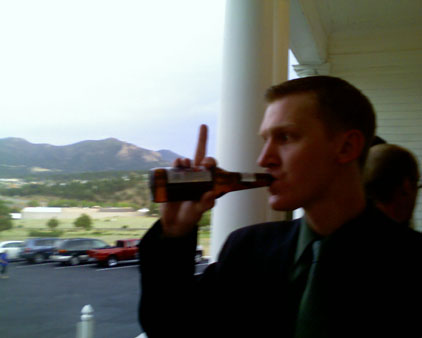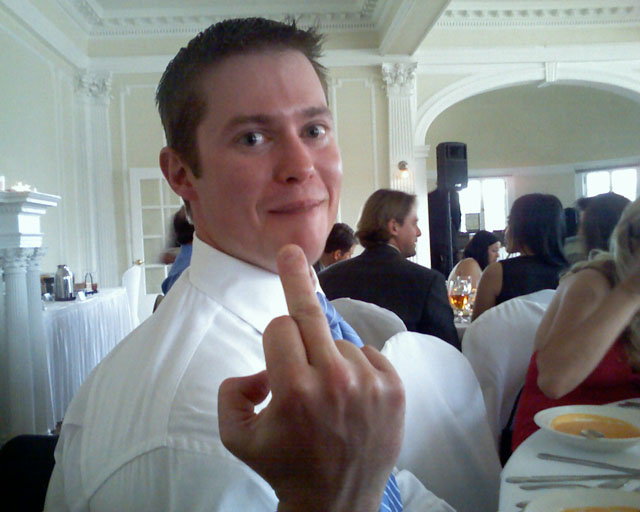 Goodbye, I'm Dan Poehler.