Saturday Morning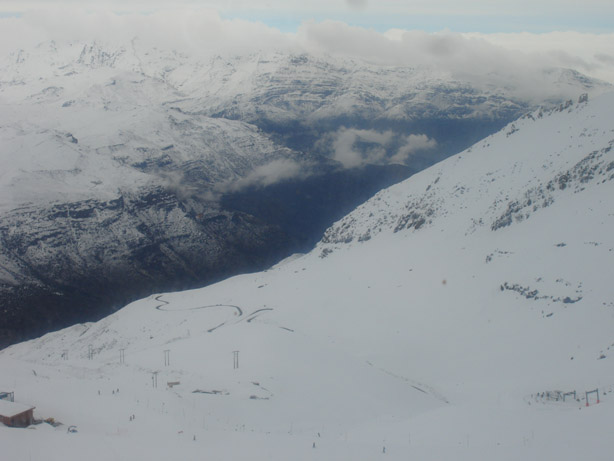 We woke to a decent amount of snow. Our luggage wasn't there and American Airlines couldn't really give us an answer when our bags would be there but we gathered that they were still Miami for some reason. But they insisted they were going to get from Miami, Florida to Santiago and up the aforementioned road just as soon as possible.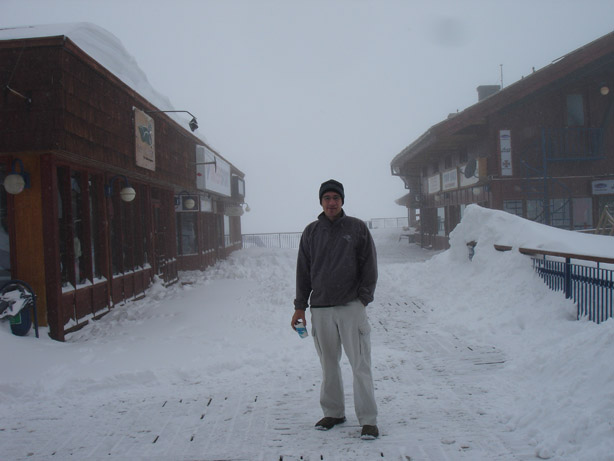 Successfully fighting the "defeats" Josh recommends we get a coffee and schedule a massage in the local spa to kill some time. It was tough since there was a bit of new snow on the ground but we scheduled our massage for the afternoon and killed some time in our hotel room.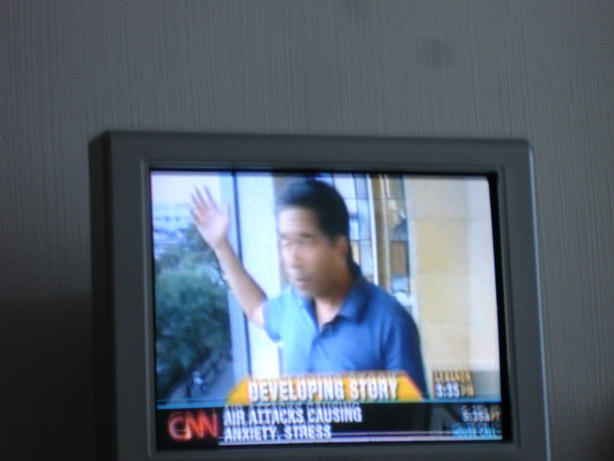 There was only one English channel and it was a permanent bummer... CNN.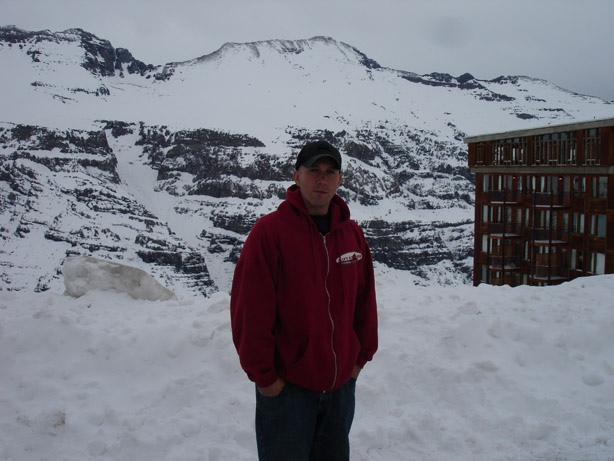 After the massage, Josh and I wander around the small compound of 3 buildings surrounded by the longest mountain range in the world. We can't bear to go back to the room and watch CNN. Our luggage has still not arrived and as you can see all I have is the same clothes I've been wearing since Thursday (it's now Saturday night). I am especially confident that our luggage will show up the next morning. Or maybe, just maybe, it will be there later that night.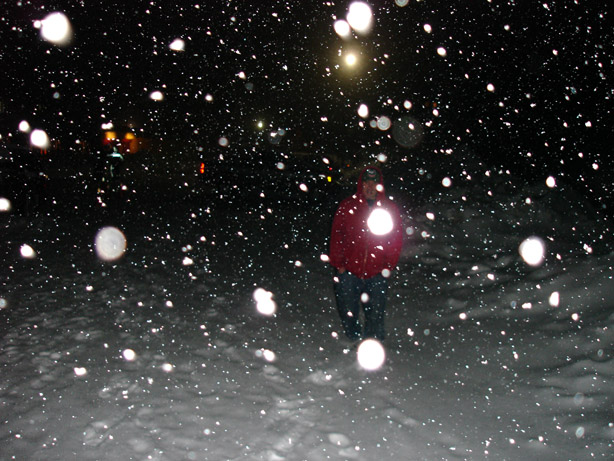 Then it started DUMPING snow. Normally, that would be a great thing on a ski vacation but when you are in the Andes waiting for your toothbrush and all your other worldly possessions (including skis and snowboard) it's a bit of a downer since the single road connecting us to Santiago was now closed.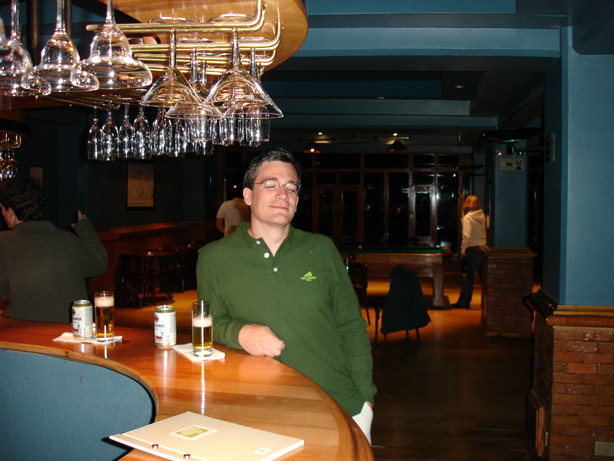 Whoa! Saturday night at Pub Tres Puntas and Josh is holding court!!! Saturday night attracted a few patrons to Josh and my pub. Here Josh is still holding strong fighting the "defeats". We were stuck in the Andes with hardly any clothes and no snowboard/ski gear. We hadn't seen or heard English in days other than eachother and CNN reports on Middle East Bombings.
But we were holding strong now. Above, wearing his newly purchased Valle Nevado shirt, Josh is giving me his discourse on "bad luck". His thesis is essentially that our human experience has a subtle causal effect on our own luck. Which is why bad luck seems to beget bad luck. But if you can adjust your "human experience" you can stem this flow and and the streak can be made to end. When it rains... it doesn't have to pour!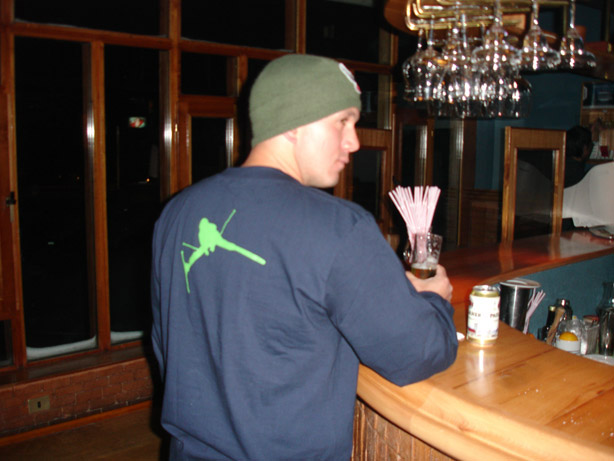 And I spent some time colorfully agreeing with Josh. I mean his theory made sense. Sure we had a bit of the old "cabin fever" and now a bit of the "snow madness" and the whole luggage issue... but I had a new Valle Nevado shirt too with a skier on it. And damn it! Josh was right on about controlling our own luck! We decided right then and there that the next morning we were going to hit the slopes one way or another!!!
Then as we go to leave we realize Josh's light gray North Face fleece had been stolen from Pub Tres Puntas. Our human experience may need another beer before we go.
FYI: if we crop and lighten the picture of Josh holding court above we see over his shoulder that his jacket is still on the chair draped over my sweatshirt. We just tacked it up to plain old bad luck.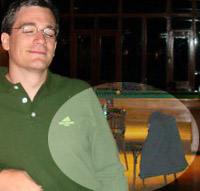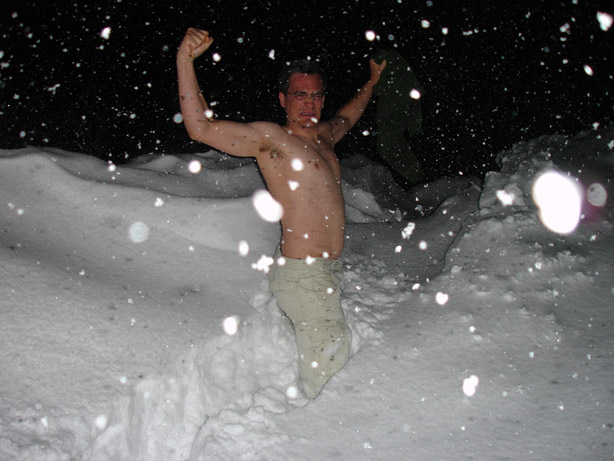 On the walk back to our building Josh gives in to "Snow Madness".
Side note:
The 1993 film Alive chronicles a group of young men stranded in this very mountain range after their plane crashes. One difference is that they were forced to break social taboos and cannibalize the fallen to survive, whereas Josh and I had French cuisine for dinner. Another difference is that they had their luggage. We didn't.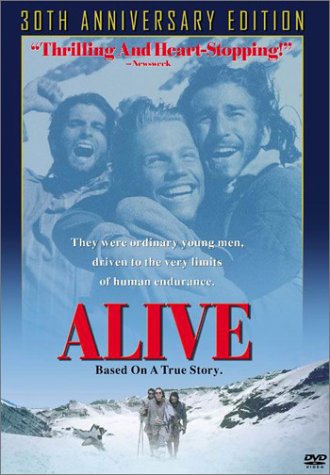 Sunday. We begin our turnaround.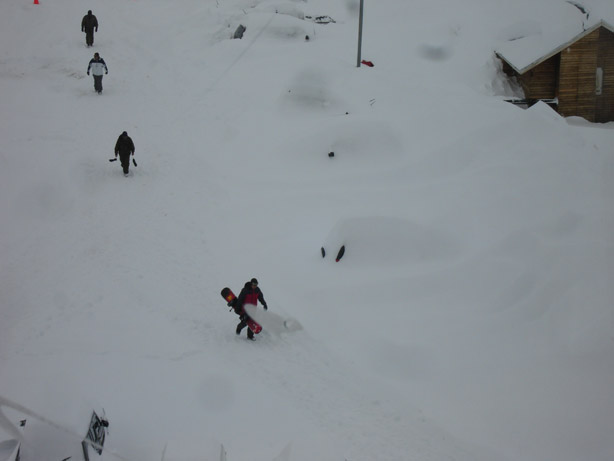 After swearing off anything more than social apre-ski drinks for the rest of the vacation Josh and I realize that we've taken on a few feet of snow overnight. Again, the view out of our hotel room.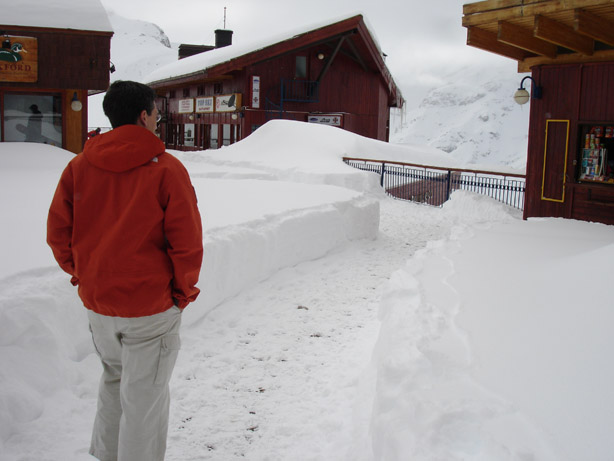 Hell ya. Sticking to our plan of hitting the slopes no matter what, we wade through the paths in the new snow to find some makeshift outfits.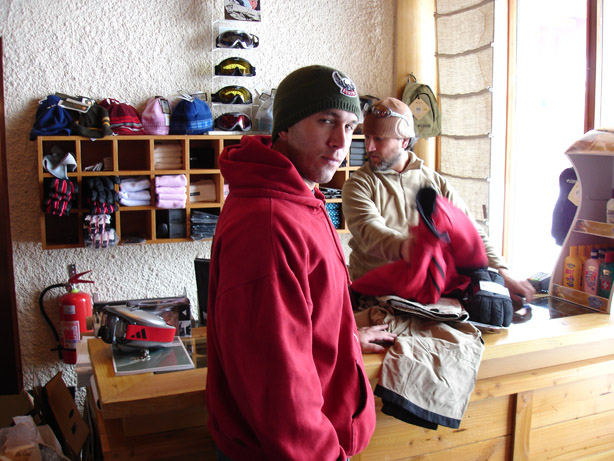 And we find it. For just a few hundred pesos I get a new snowboarding jacket, pants, socks, goggles and gloves.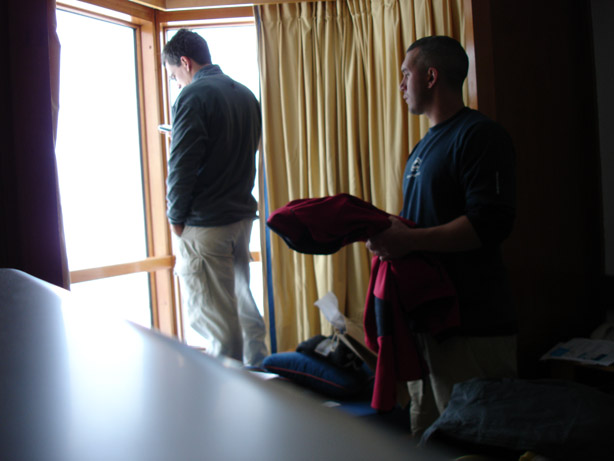 Before we head out Josh calls American Airlines again. They confirm that the closed road is indeed a problem and also that our luggage may or may not be in this hemisphere.
Continue to page 3