This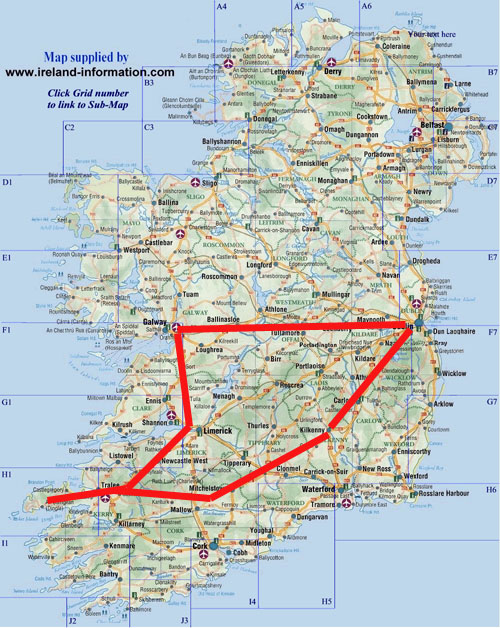 is the story Jake and Bob's trip to Ireland. The trip vaguely was supposed to be to visit our friend Ian from Dublin and see what we could see while we were there. There were basically no other plans. No real reason... there just wasn't. We figured we would hang with Ian and the rest would just... fall in place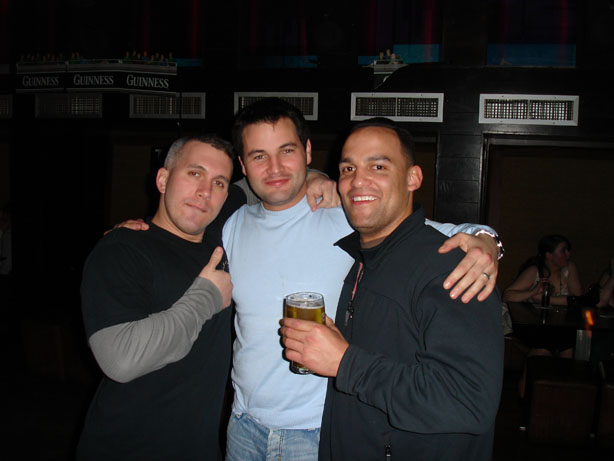 This is picture is from the first night in Dublin. It was essentially the last time we hung out with Ian while we were in Ireland,
Ian said we should go see the rest of Ireland. It was simple. First, he gave Bob a crash course in the Euro.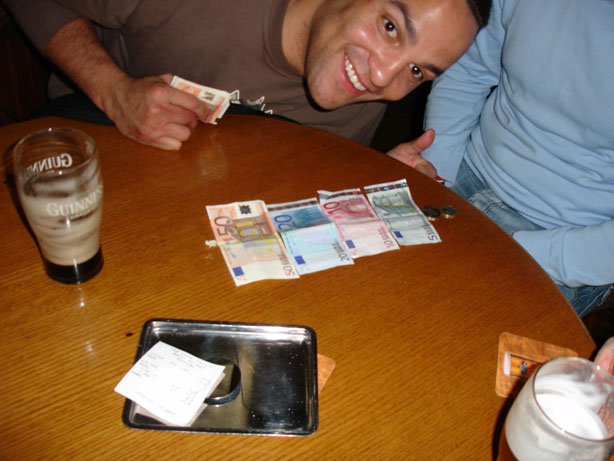 Ian said to call Euros any of the following: Squid, Quid, Lid... whatever. He also added "smacker" would be acceptable.
After the lesson on Euros, Irish women and a promise to get us a deal on a car Bob and I decided that the very next morning we would leave Dublin and head West to see what we could see.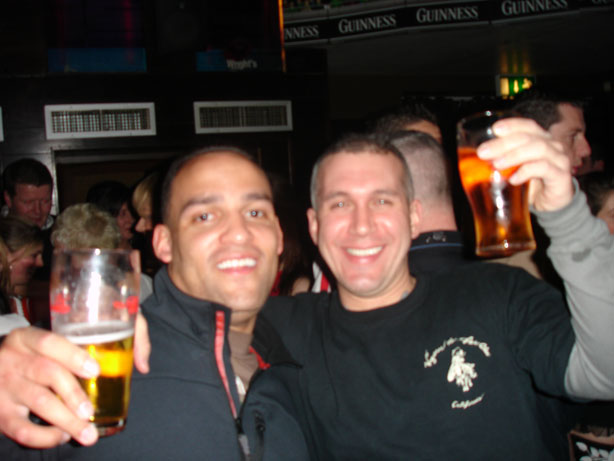 Their thinking and this photo is a bit out of focus.Ian and his brother Allen hooked us up with a cell phone, called us "Yanks" then pointed us back towards Dublin.
Lucozade was my favorite drink in Ireland and both Bob and I had at least one per day. We discovered it the first day. Here is me enjoying a Lucozade in Dublin in the morning.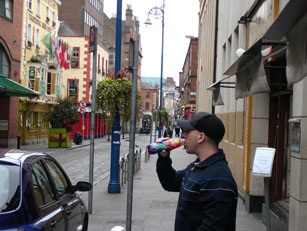 After their first Irish breakfast Bob and Jake head to the airport and pick up a car.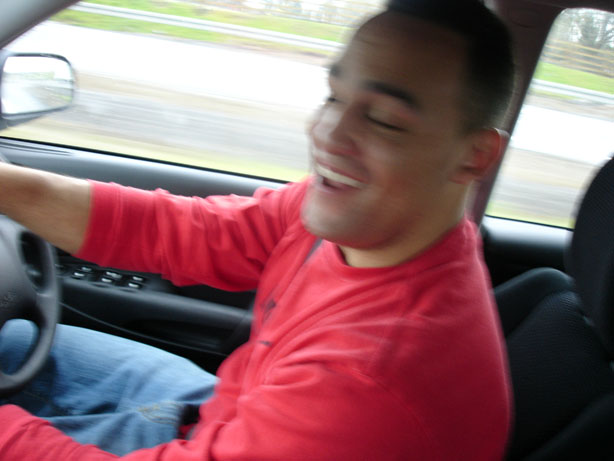 The fact that the wheel was on the right and you drove on the left and we were extremely tired from the night before was nothing but comedy and plenty of pictures were taken of this carnival ride.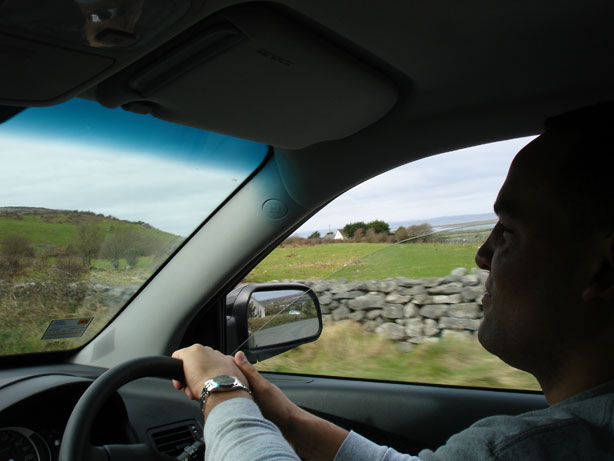 We decided it would be best if we both got good at one job so Bob became the pilot and I the navigator. There were no highways where we were going.
The first night we end up in Galway.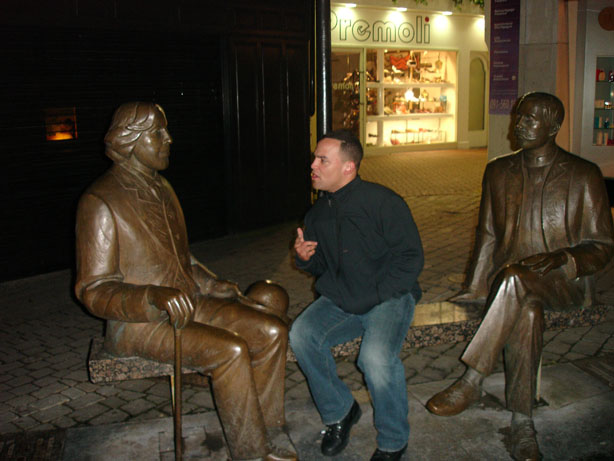 Bob discusses the coolest bars with the locals.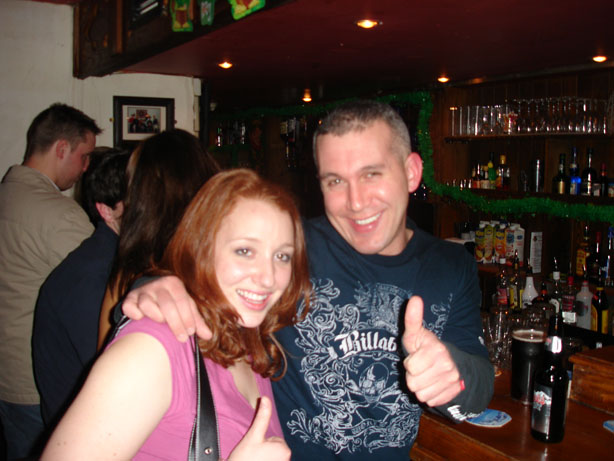 And we found them... sort of. Galway had a lot of Americans on Spring break for some reason and we met this girl who was from my Alma Mater: Purdue.
Late night in Galway... only one place to go: Club Cuba.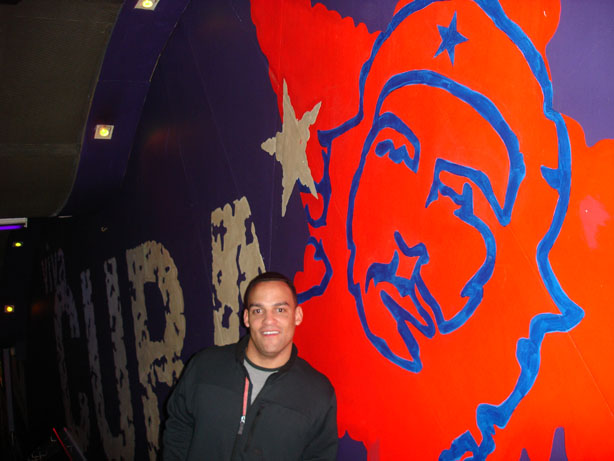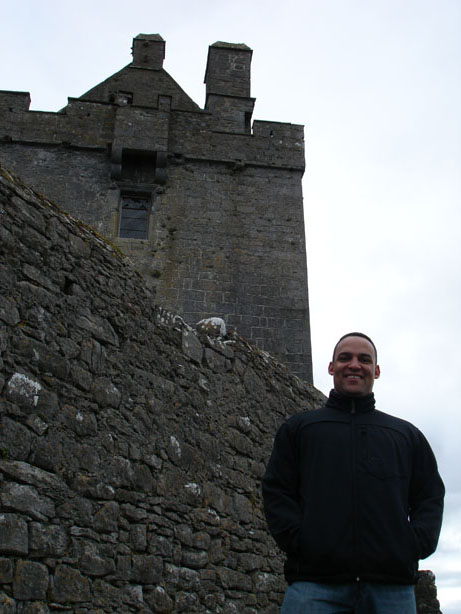 The next day we were ready to go. We were on the way to the local attraction, the Cliffs of Moher but passed by a giant castle we decided to check out.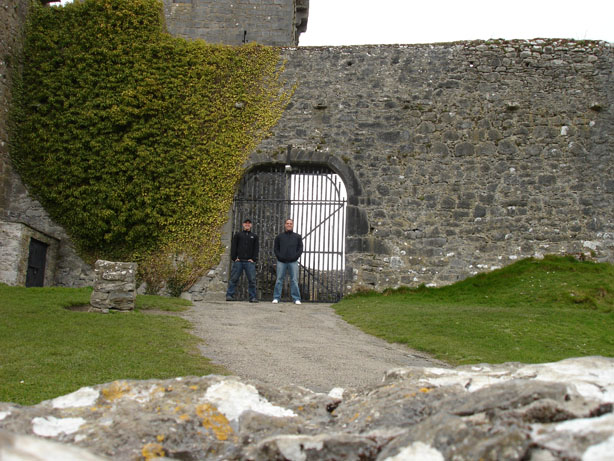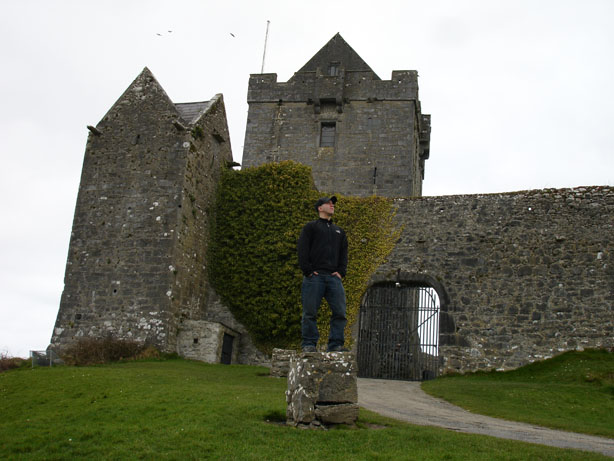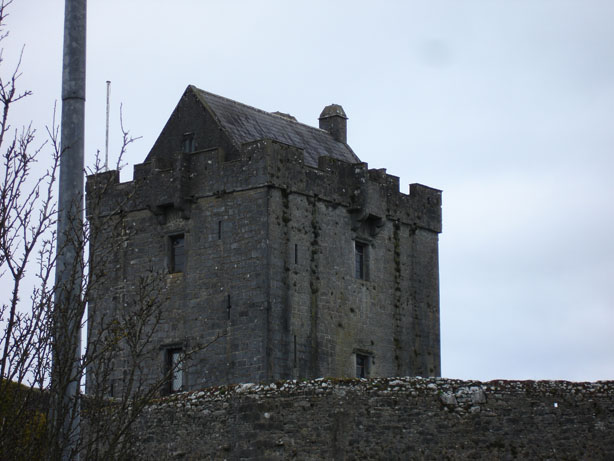 After the castle we hit a closed road and needed to detour. My navigation skills were being put through the test.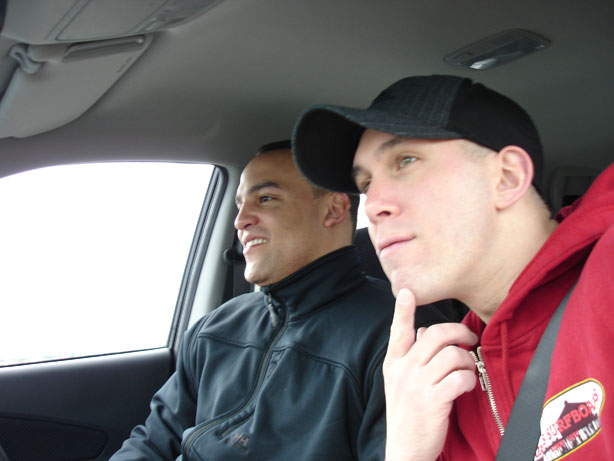 In looking for a way to get to the Cliffs we decided to chance taking a "road" which wasn't on my map but seemed to be going the right direction in Bob and My uneducated, inexperienced opinion.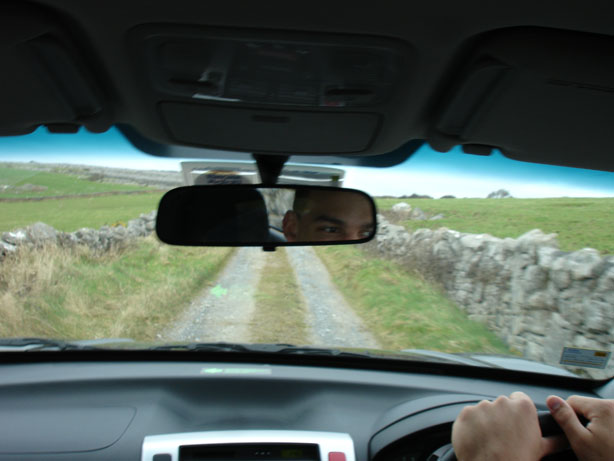 Not sure if I would call it a "road" and we did end up turning around after several kilometers but we did find some nice scenery.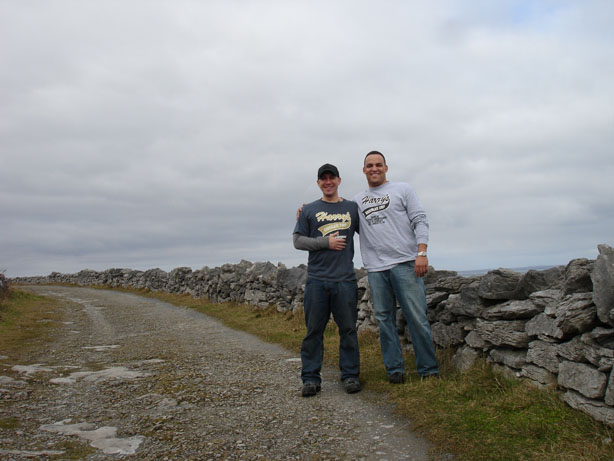 Oh yeah, we were both wearing our Harry's Chocolate Shop shirts so when we got to the Cliffs we could get a picture and send it to our favorite bar at Purdue.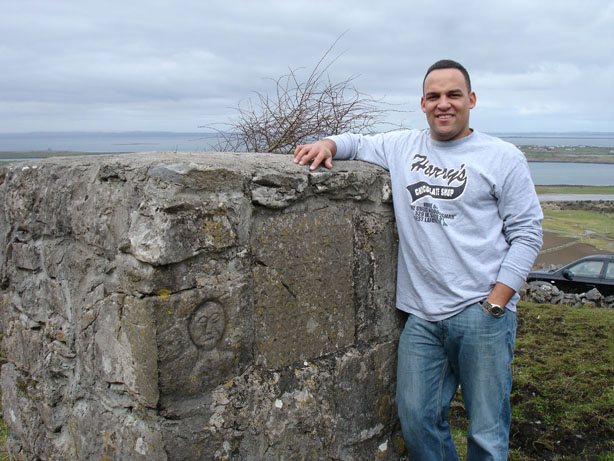 This is in the middle of nowhere. When we pulled the car off on our "road" to have a look around... we found some ancient ruins.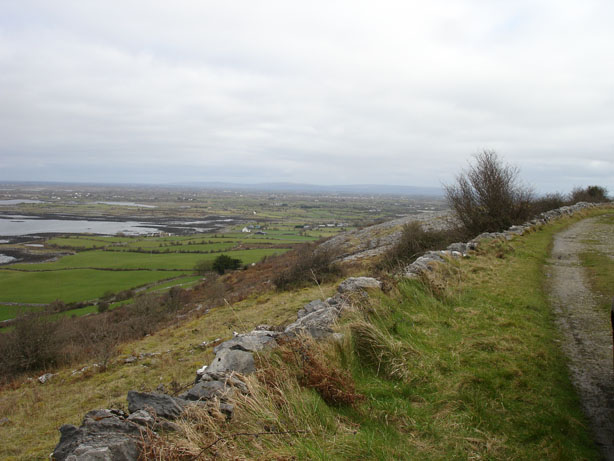 The navigator had to explain to the pilot that navigational errors happen.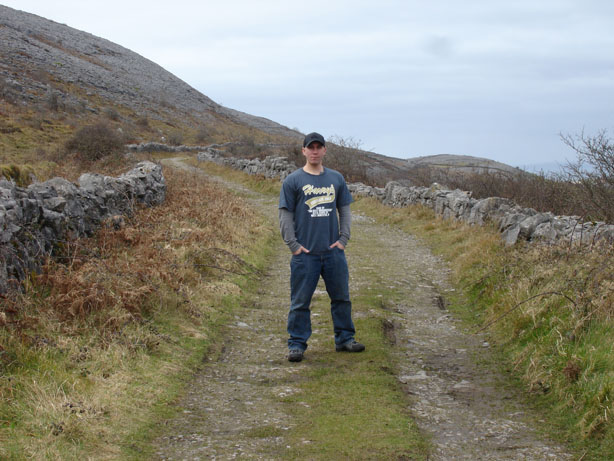 When we finally get back to a real road... it wasn't much better.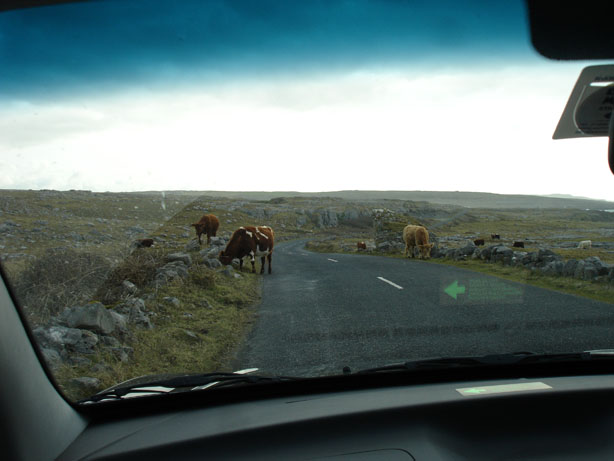 Finally we arrive at the Cliffs!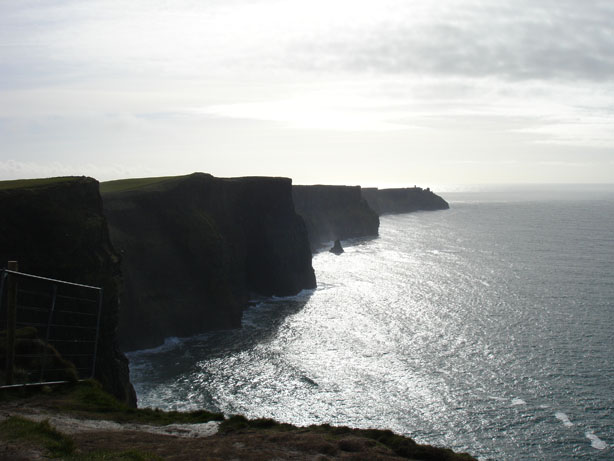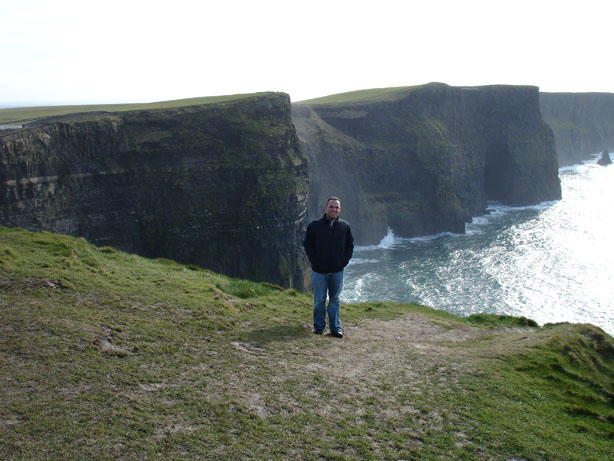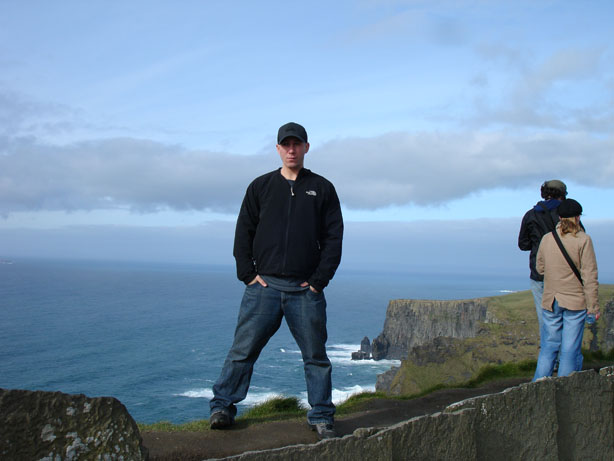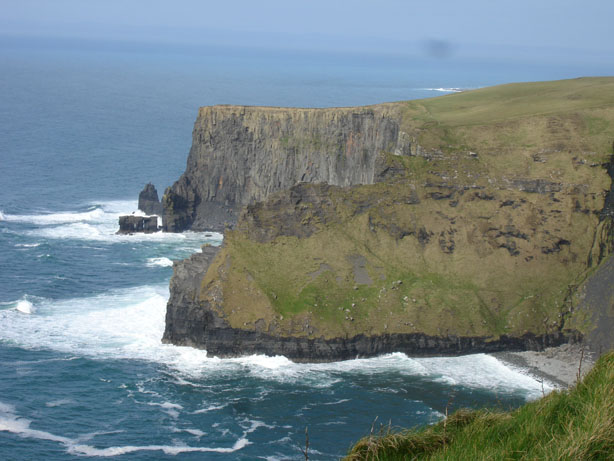 Bob, just inches from the cliffs, almost slips on a banana peel.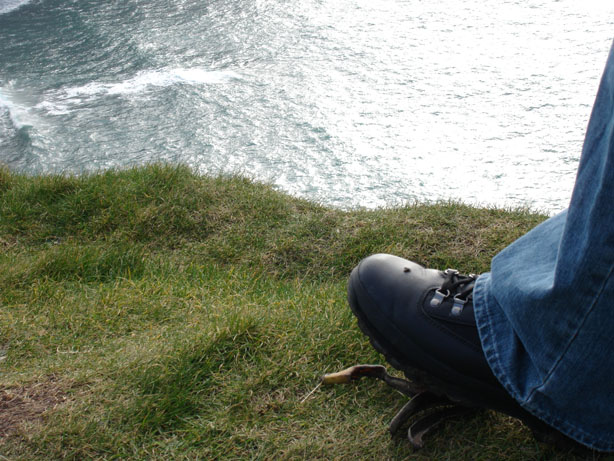 On the way back to Galway we pass and stop at an ancient Tomb.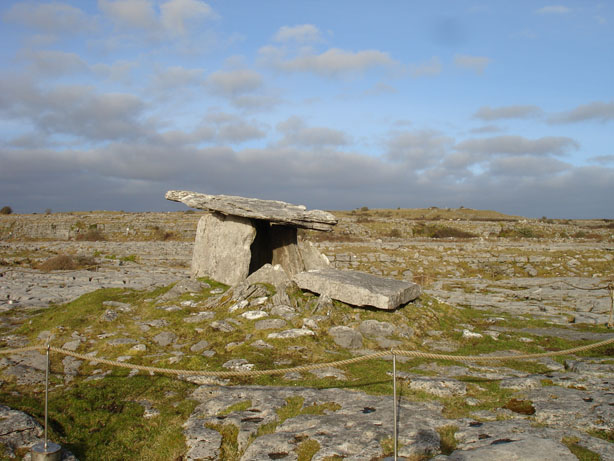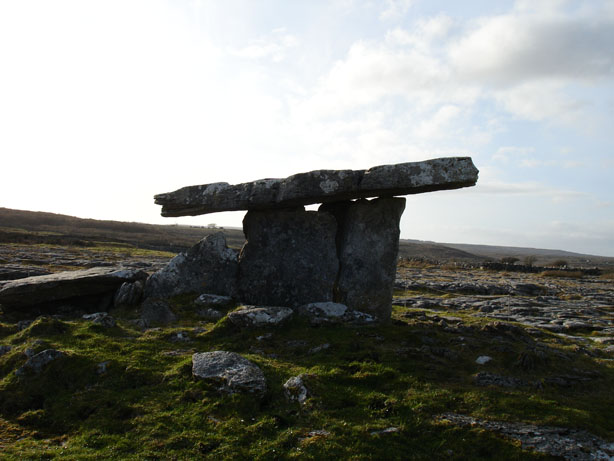 Also, just sitting at the end of a housing development we find ruins of a castle or something.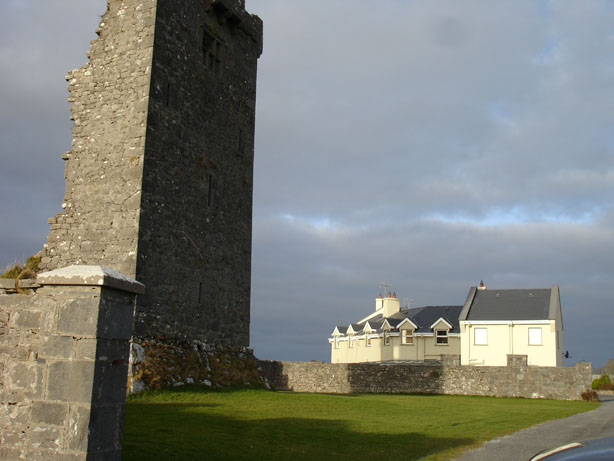 Bob can't resist the urge to climb the crumbling unstable ancient ruin.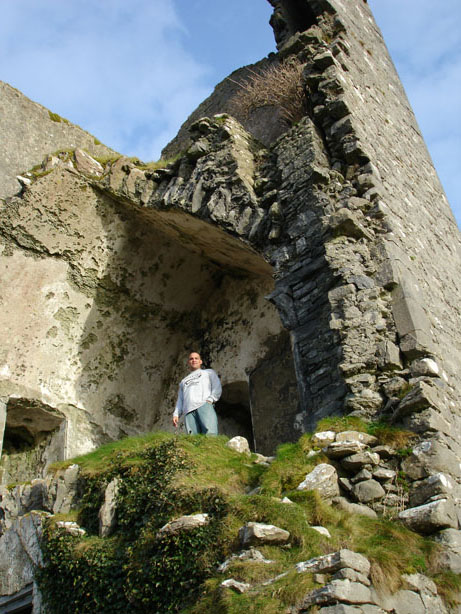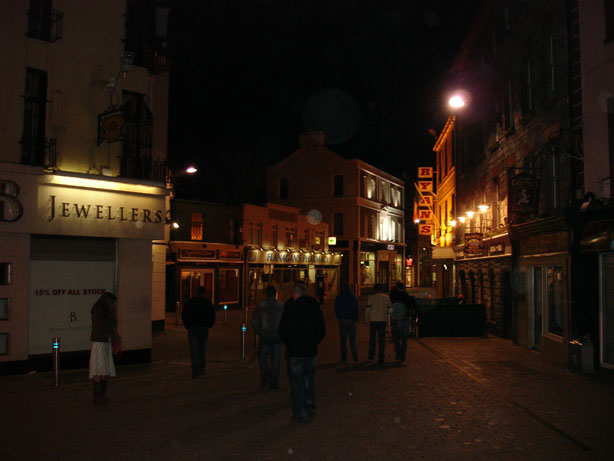 Another out and about in Galway.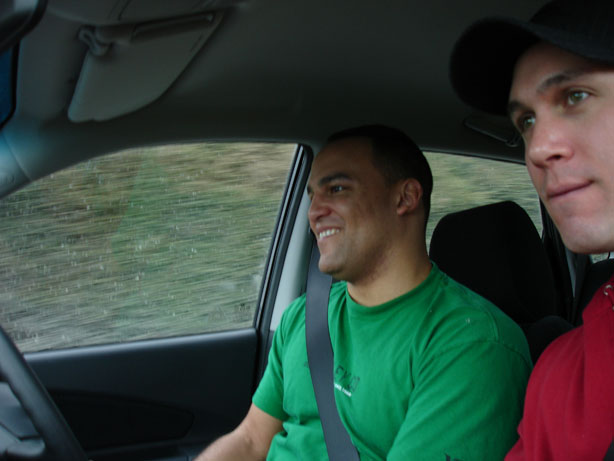 Back on the road the next morning we head towards the Dingle peninsula which we hear is scenic and we can mingle with the locals who speak Gaelic. Dingle is also the Western most city in Europe.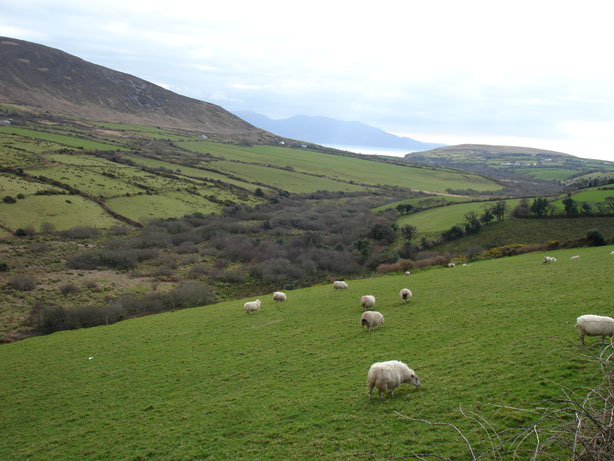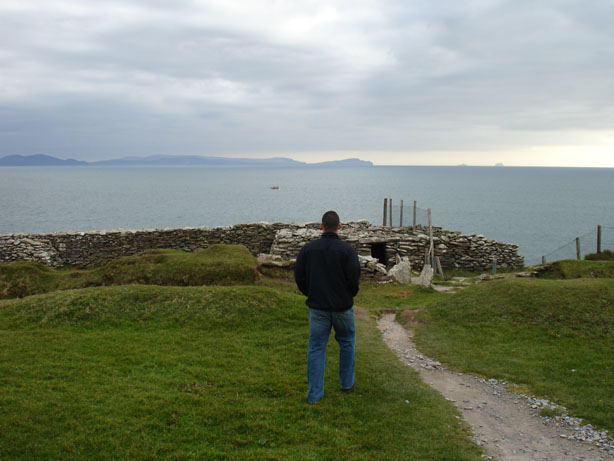 Exploring an Iron Age fortress bob remarks "This place sucks".
But he finds a cool place to hang out while I check out the fortress.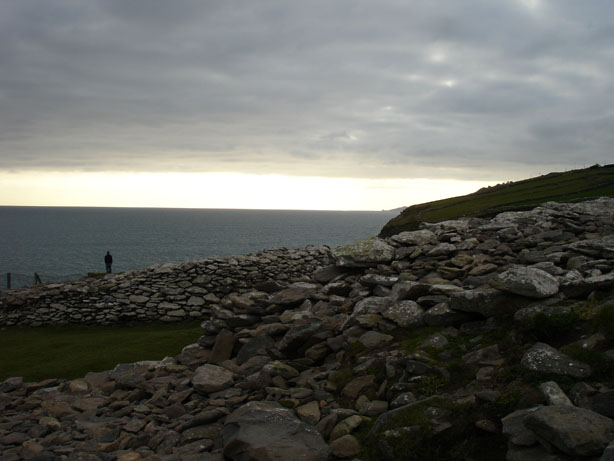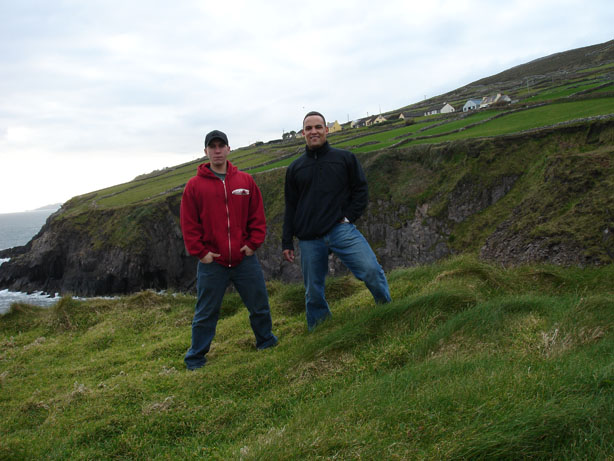 There is some type of Palm which seems to be able to grow where we have been driving. We're looking for a good one to tree bog. This was a potential but there were people around.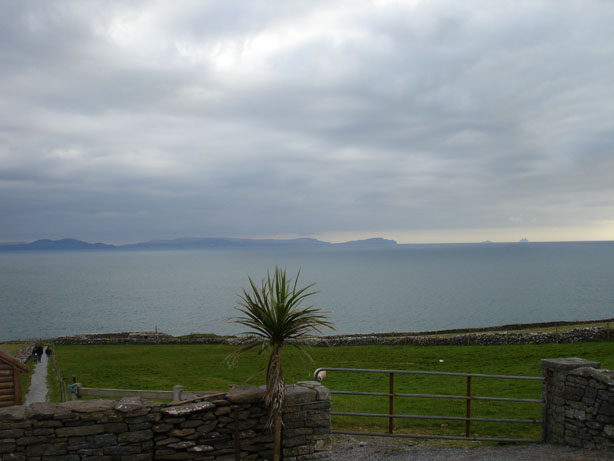 Now we're realling getting to the middle of nowhere. This is a two lane road and it went like this for miles. We sat in silence my palms sweating on my maps Bob's on the steering wheel. Finally Bob breaks the silence with "I'M DRIVING IN THE MIDDLE OF THE ROAD BECAUSE I'M SCARED, OK? I'M SCARED."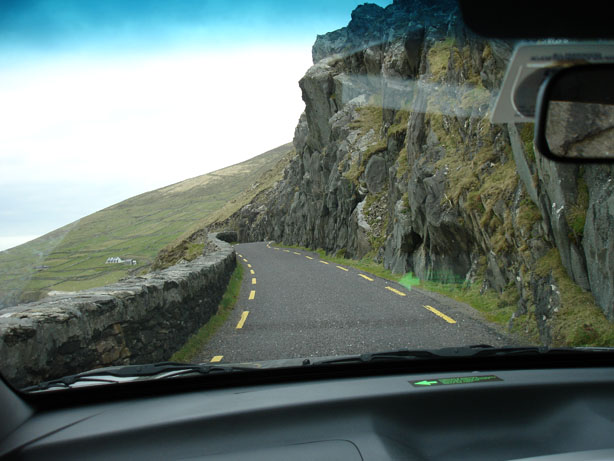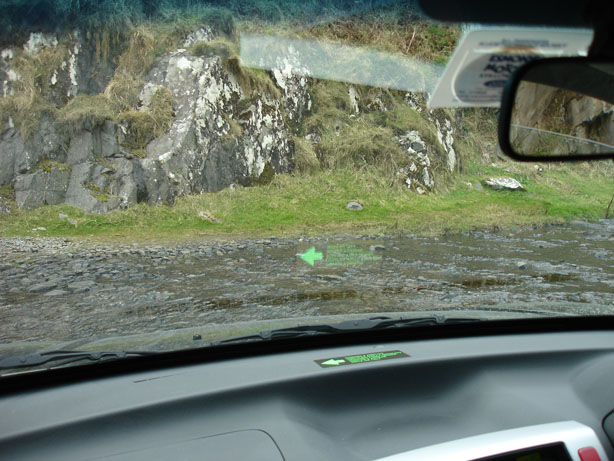 Now the road has a river running over it but this really couldn't make the driving conditions worse than they already were.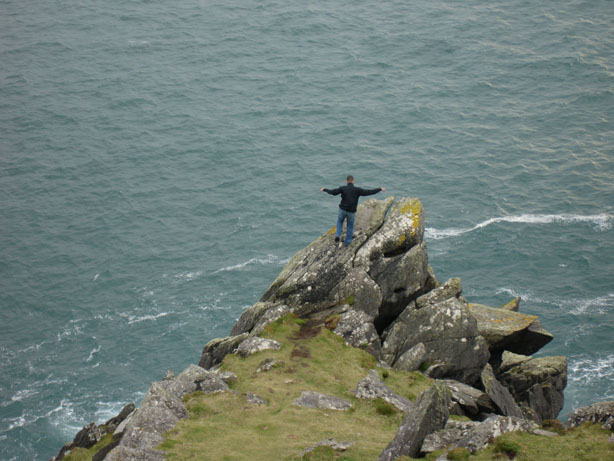 Bob, coming off of his spiritual driving experience sees a peninsula just off the side of the "road". We found a place to pull off and Bob raced down to the cliff. I though he just couldn't handle the driving anymore.
I yelled down "Bob, do a one leg crane pose on that last rock" as a joke.
Bobby Blaze, always up for a challenge.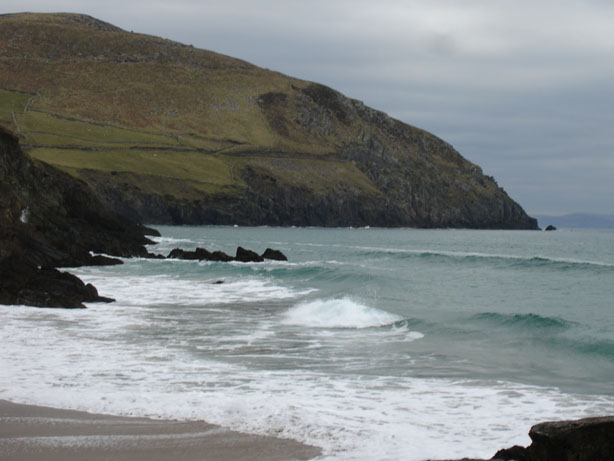 We found a beach with heavy swell. It was killing me. I would have loved to surf this spot. What you see in the background is what you get for as far as you can see.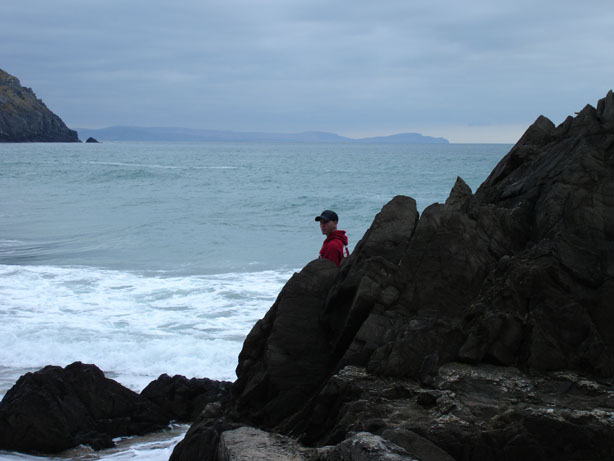 We had been in the car for some time now. So we decided to hike out as far as we could on one of the cliff peninsulas. We pulled our car in to a field off the road and started hiking.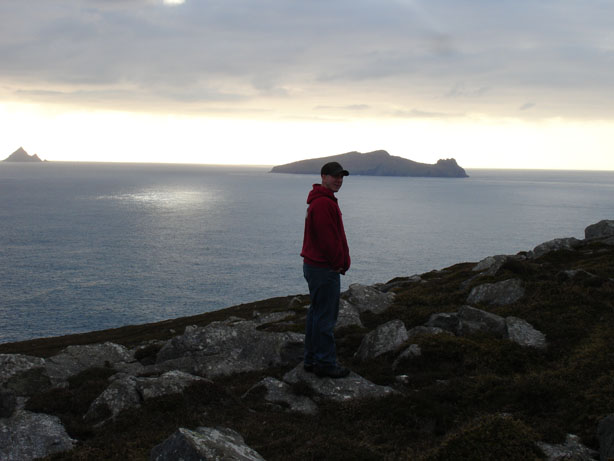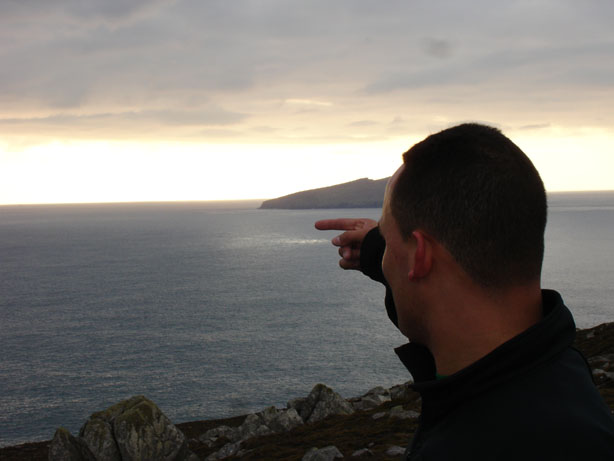 Not quite the same as Bob's.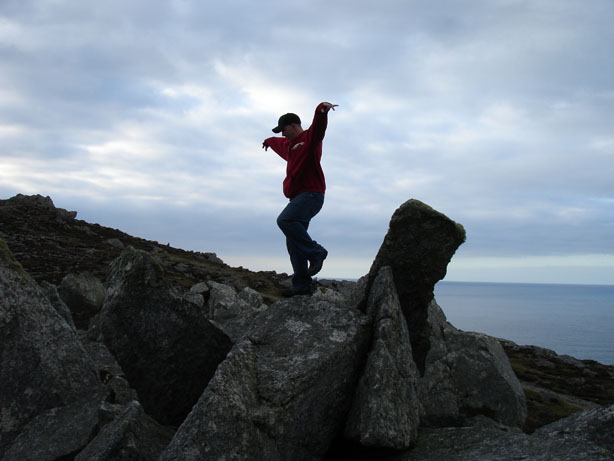 We were getting towards the tip of the peninsula.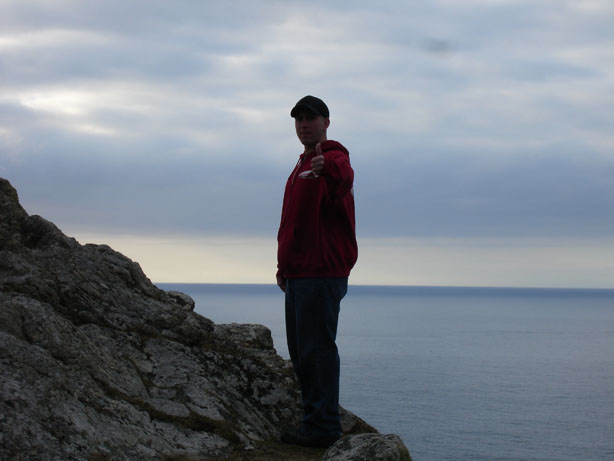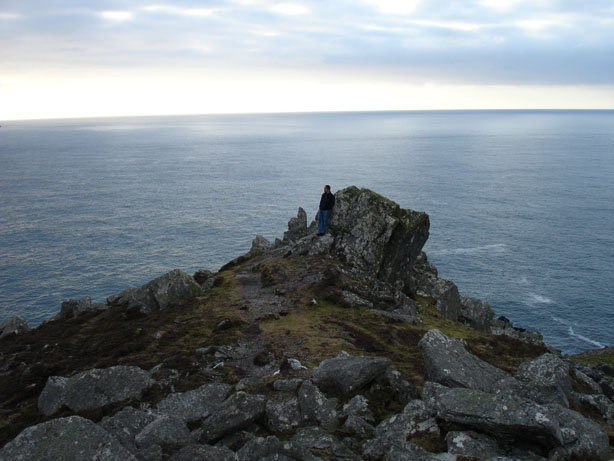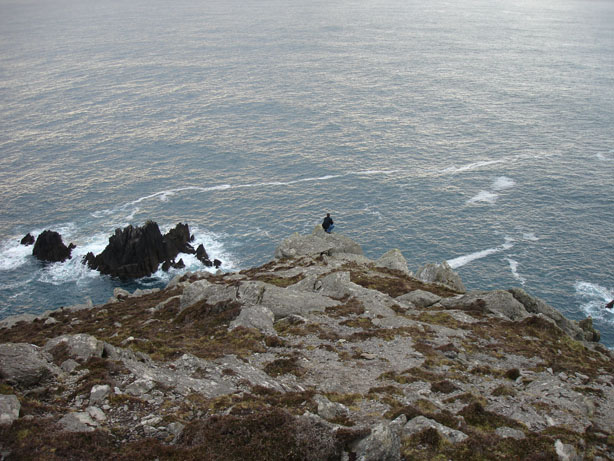 Another camera timer pic. It's pretty tough terrain to jog down.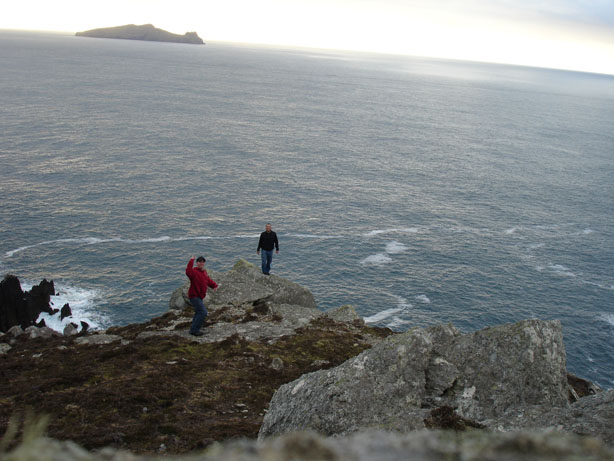 Bob and I throw rocks off the cliff. There in an interesting parallel here with my trip across the United States when I stopped at the Grand Canyon. There is just something so tempting about big drops and rocks.
Check out the bottom picture here: Grand Canyon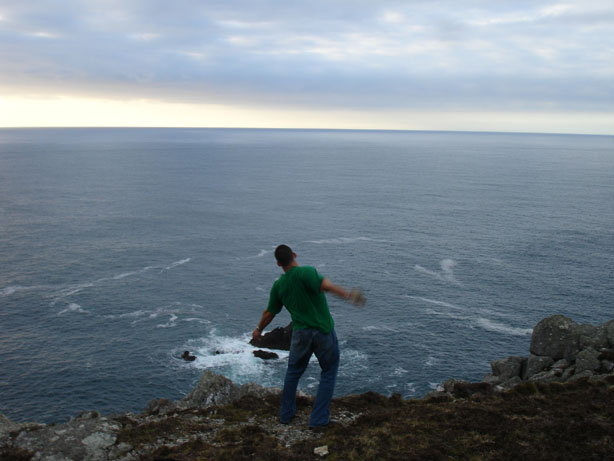 Probably the best picture taken...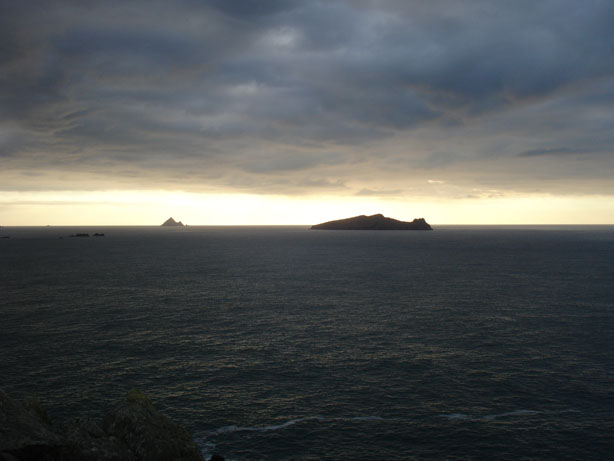 Looking the other direction from here...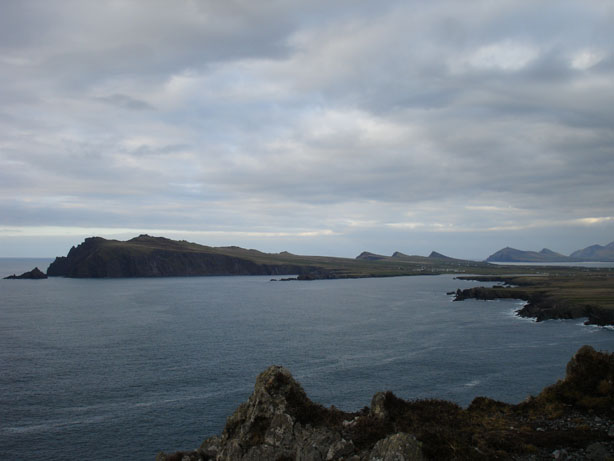 And the night life in Dingle isn't that bad as it turns out.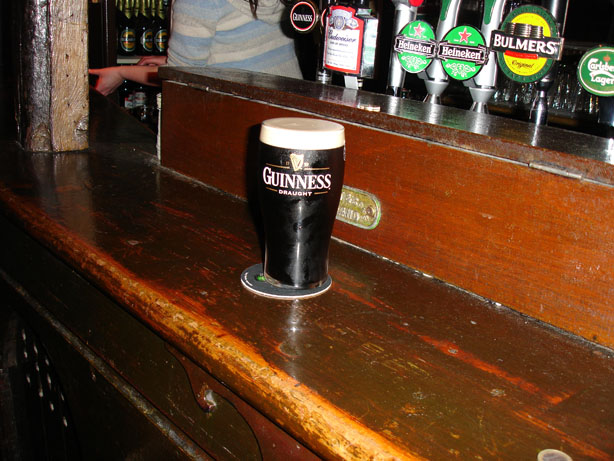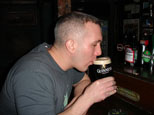 Back on the road...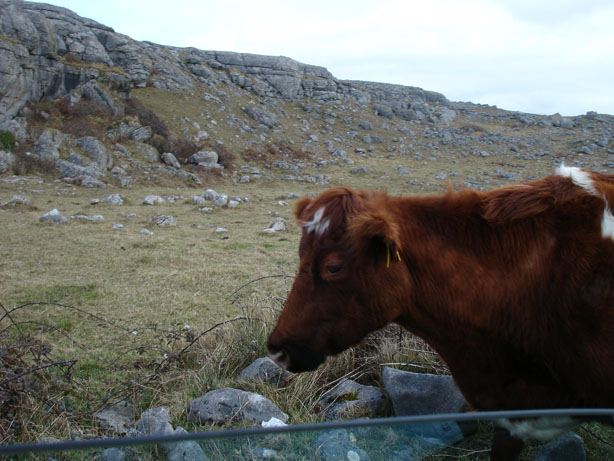 The next stop was Kilkenny. First, we had to get some culture.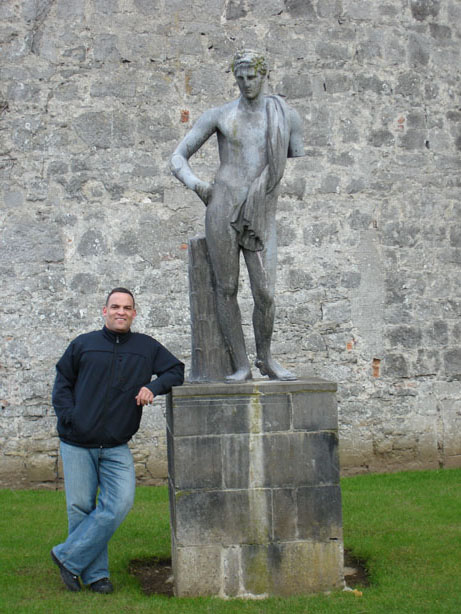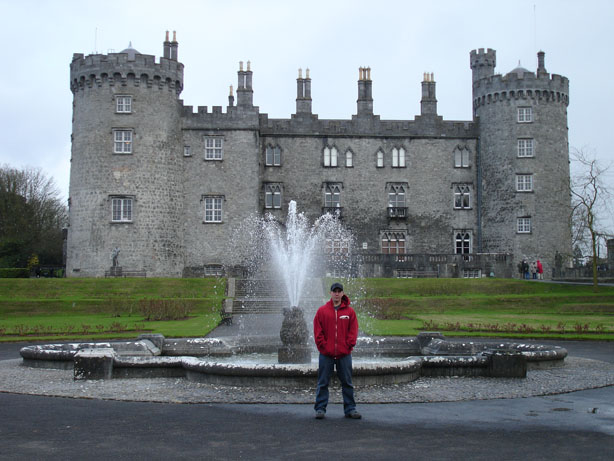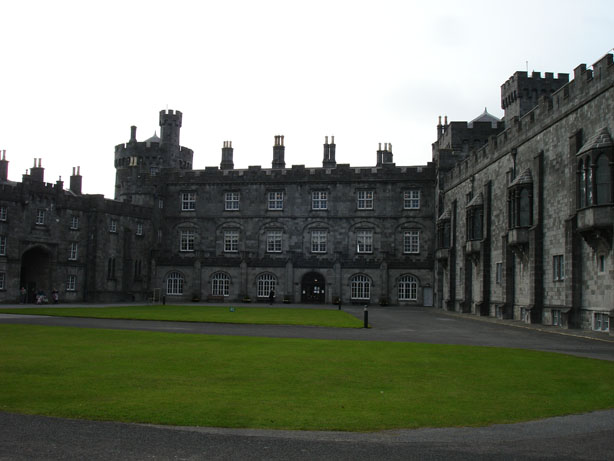 That's about it for Culture. We decided we should try to take it easy in Kilkenny because St. Pat's was the next day. That didn't work. There aren't many pictures from that night but things went fast. We started at our friend Ian's Uncle's bar Sid Harkins. We met some locals and before we knew it we were tearing up the town. The biggest issue is we were drinking shots (on the insistence of Brian and his brother Shane) of "Mickey Finn". I had nightmares about this crap and in the airport later we saw the bottle and I snapped a picture of Bob with it.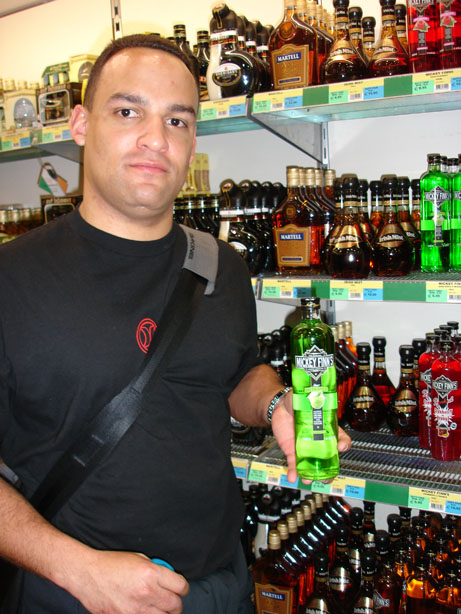 The only photo from that night: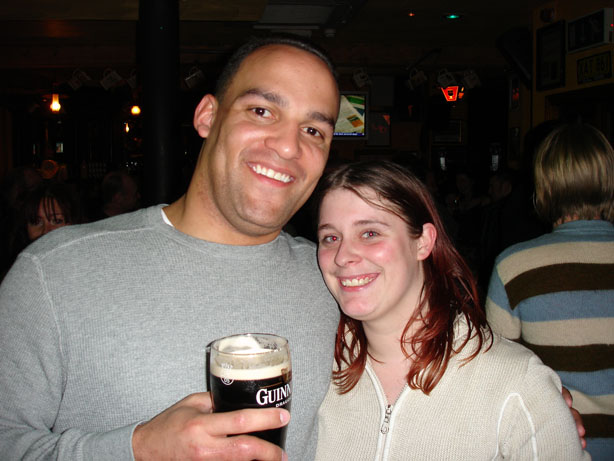 I forget who this girl is but by the end of the night we were all best friends with all the locals. That is thanks to the excess of Mickey Finn and the Guiness.
The next morning we were hurting... but it was St. Patricks day so we got going early and got back to Dublin by around noon. We had drove about 1200 kilometers or about 745 miles on through crazy back country, around detours and sheep and cows.
Tools of the trade: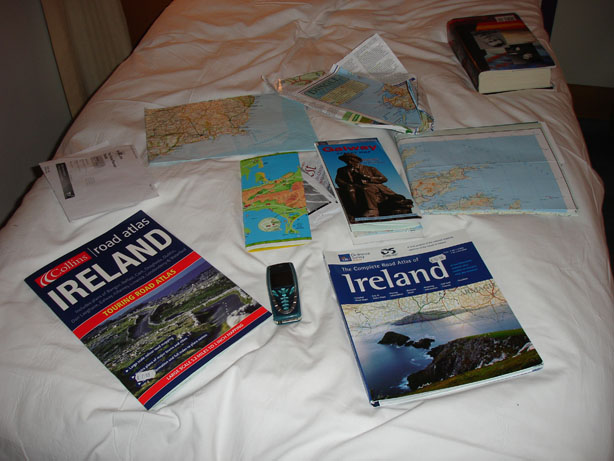 When we arrived back in Dublin. It was total mayhem. First, we couldn't get in touch with Ian. He was nowhere to be found. As it turned out he was out far, far too late the night before.
If anyone ever tells you that St. Patricks day is more of an American celebrated holiday... they are totally full of shit. That's like saying they don't celebrate Mardi Gras in New Orleans.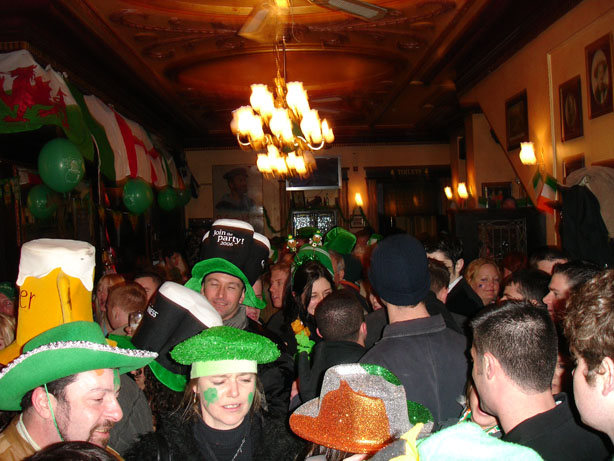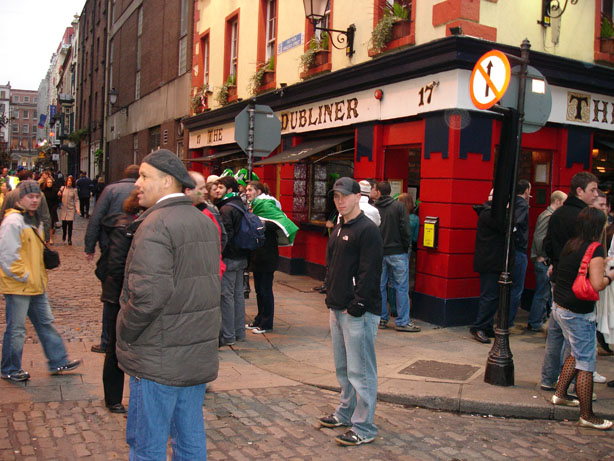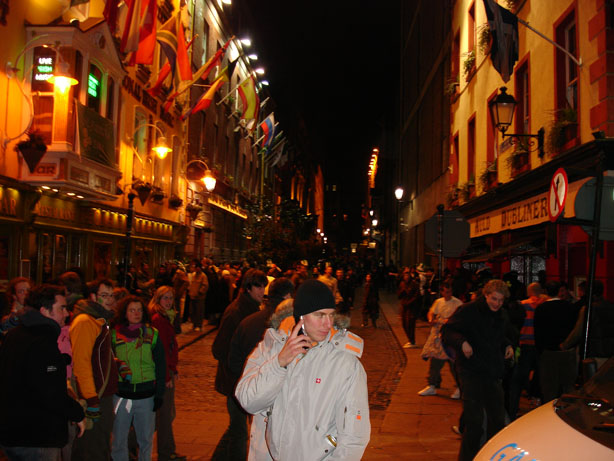 Bob and I made all sorts of new friends from all over the world. The giants are from Holland and the girls are from the United States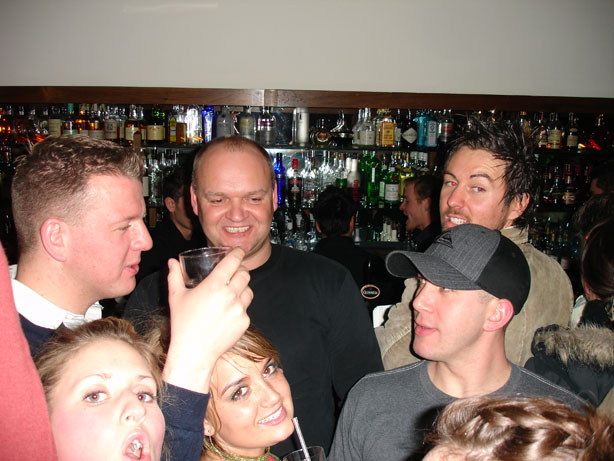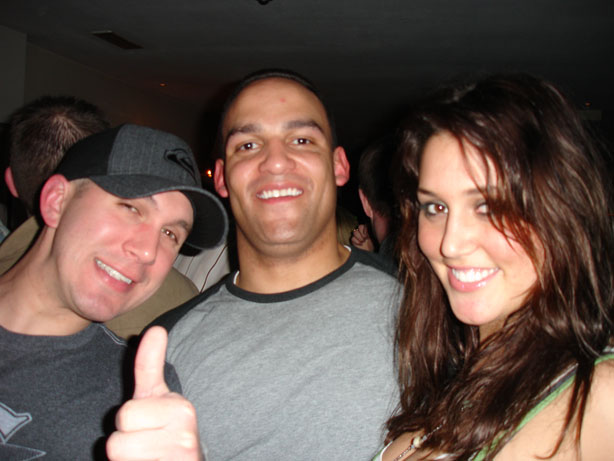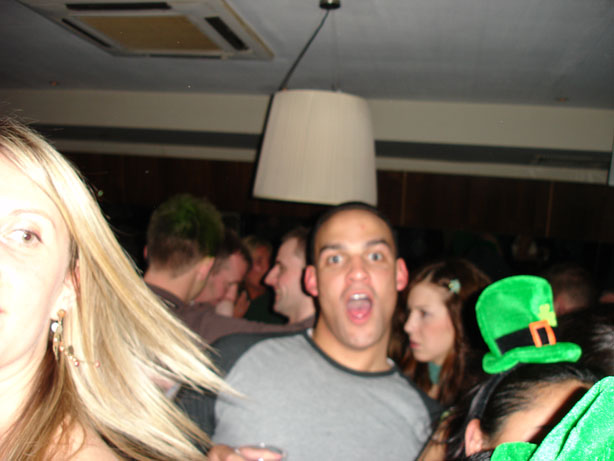 AND LOOK WHO SHOWS UP AT MIDNIGHT AFTER BOB AND I HAD ALREADY BEEN CELEBRATING FOR 10 HOURS?????
Ian and his brother Allen!!!!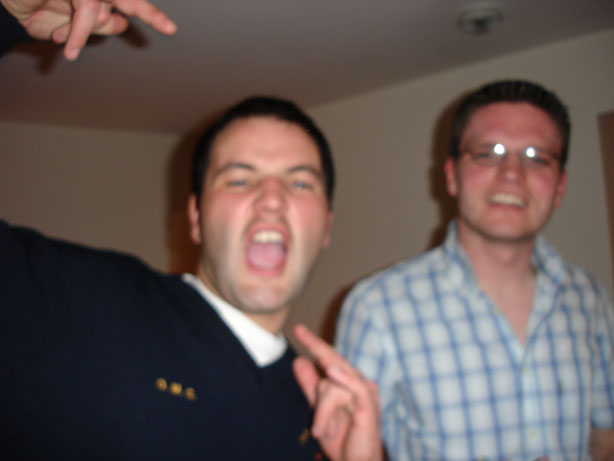 Out of focus makes sense here too.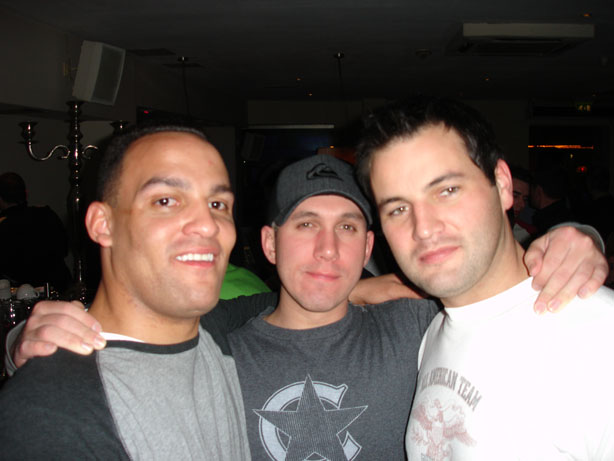 We spent some time with Ian and Allen... but it was late and we didn't make it much longer and plus as I said we had already been celebrating a long time.
The next day was a tough one. We tried going to the Guiness Storehouse but the line was way too long to get in so we just got a quick picture and kept it low key for the day.